Home > Alerts & Updates > "Bad Bills" Alert for 1/28/2013
"Bad Bills" Alert for 1/28/2013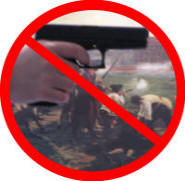 Two Gun Control Bills Emerge
The session begins today, and already there are identifiable threats to your right to keep and bear arms.
House Bill 27, "Threat of Terrorism Penalty Amendments," by Eric Hutchings, could be used to punish people who have reasonable cause to "just say no" to illegitimate government actions; branding them as "terrorists" and giving them increased statutory penalties.
Senate Bill 120, "Target Shooting and Wildlife Regulations," by Margaret Dayton, would vastly expand the political power of one person: the state forester. Under the bill, he/she would be granted near-absolute power to selectively target gun owners for harassment.
Click here to see these "Bad Bills" descriptions on our "Good Bills, Bad Bills Page".
If you have not already done so, sign up for free email alerts and updates. We will attempt to email you with the most critical of information as we are able.
Sign up for Free E-mail Alerts & Updates!
To sign up for alerts and updates, click here. Also feel free to "Like" the UT Gun Rights Facebook page and share it with your friends at http://www.facebook.com/UtGunRights.
---
Copying Permission: Permission to reprint articles and material in whole or in part is hereby granted provided that UT Gun Rights is cited. Feel free to share this information with others.
Disclaimer: The information on this site is for educational purposes only. If there are errors, email info@utgunrights.com.
Comments or questions? Email info@utgunrights.com.
Copyright © 2013 UT Gun Rights.