Home > Alerts & Updates > Update for 2/4/2013
Update for 2/4/2013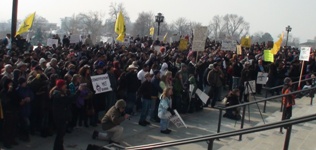 YOU Are Making a Difference
If you think you are not making a difference, THINK AGAIN. Senator Margaret Dayton publicly pledged to delay SB 120, the bill granting one person, the state forester, near-absolute power to selectively target gun owners for harassment.
This does NOT mean it is dead OR that it won't be resurrected through some other means. But it is a sign that your efforts are having an impact. To read about Dayton's retreat, click here.
In our threat assessment of SB 120, we put the finger of blame on the Senate Monarch, Wayne Niederhauser, for fast-tracking gun this bill in the opening days of the legislative session. This Herald article above offers additional confirmation of Niederhauser's personal agenda and involvement:
"All of the Senate leadership said they hope Dayton moves her bill forward so they can have the discussion on how the bill handles gun rights and protects the state from wildfires."
Now that you are awake and exerting political pressure, Niederhauser suddenly wants a "discussion." With "leadership" like this, who needs enemies? Again, to see our threat assessment of SB 120, click here.
The war is underway for your rights. Encourage your friends to sign up for free email alerts and updates. We will attempt to email you with the most critical of information as we are able.
Sign up for Free E-mail Alerts & Updates!
To sign up for alerts and updates, click here. Also feel free to "Like" the UT Gun Rights Facebook page and share it with your friends at http://www.facebook.com/UtGunRights.
---
Copying Permission: Permission to reprint articles and material in whole or in part is hereby granted provided that UT Gun Rights is cited. Feel free to share this information with others.
Disclaimer: The information on this site is for educational purposes only. If there are errors, email info@utgunrights.com.
Comments or questions? Email info@utgunrights.com.
Copyright © 2013 UT Gun Rights.