Home > Alerts & Updates > Alert 11/4/2016: Free Ammo for Voters on Nov. 8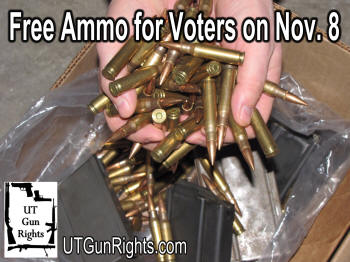 Click on picture to enlarge.

Free Ammo for Voters on Nov. 8
Nationwide general elections will be held on November 8th (Tuesday).
To assist voters in their efforts, UT Gun Rights has prepared the 2016 Utah Government Corruption Report. This report assigns state house and senate statutators a rating based upon their political performance.
This report is part of UT Gun Rights' Free Ammo page, which features additional information regarding your right to keep and bear arms, the rampant political corruption infesting Utah, and potential actions you can take to hold officials accountable.

For more information on Utah voting locations, requirements, and other details, click here.
Sign up for E-mail Alerts & Updates
To sign up for free alerts and updates, email info@utgunrights.com.
Also "Like" the UT Gun Rights Facebook page and share it with your friends at https://www.facebook.com/UtGunRights.
---
Copying Permission: Permission to reprint articles and material in whole or in part is hereby granted provided that UT Gun Rights is cited. Feel free to share this information with others.
Disclaimer: The information on this site is for educational purposes only. If there are errors, email info@utgunrights.com.
Comments or questions? Email info@utgunrights.com.
Copyright © 2016 UT Gun Rights