Home > Alerts & Updates > Update for 2/10/2015: Statutator Fred Cox Confirms Impact of Last Year's Trojan Horse (HB 276)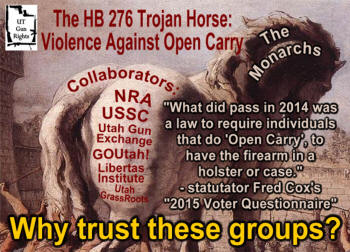 Click on picture to enlarge.

Statutator Fred Cox Confirms Impact of Last Year's Trojan Horse (HB 276)
(Update for 2/10/15): House statutator Fred Cox has just confirmed what UT Gun Rights warned in its recent update, "Last Year's Trojan Horse (HB 276) & Lessons for Utah Gun Owners", and in alerts last year.
Referencing HB 276: "Violence Against Open Carry Gun Owners", Cox wrote in his "2015 Voter Questionnaire":
"There is a proposal to allow an individual who can legally 'Open Carry' a firearm to cover that firearm with a coat or otherwise conceal that they are carrying a firearm, without a concealed carry permit. A similar bill was vetoed by the Governor in 2013. What did pass in 2014 was a law to require individuals that do 'Open Carry', to have the firearm in a holster or case." [bold added]
This is precisely the attack UT Gun Rights outlined. Unholstered open carry gun owners will now be targeted for violent harassment and arrest. Other gun owners will be at increased risk of abuse as well.
Are you still feeling confident in the judgement, opinions, and behavior of supposed "gun rights champions" who sponsor and support such gun control?
Are you impressed by the prowess of National Rifle Association (NRA) and Utah Shooting Sports Council (USSC) attorneys who boldly proclaimed:
"A concern that has been raised with the above language [of HB 276] is that since it explicitly exempts holstered and encased firearms from disorderly conduct it would imply that the carrying of un-encased or un-holstered firearms is disorderly conduct. Both our [USSC] and NRA's legal counsel has looked at this and determined that this is not the case."
[bold added]
Sources: USSC Alert for Mar. 6, 2014. See UT Gun Rights' original threat briefing for more information.
Are you encouraged by the organizations (their articles are hyperlinked below) firmly insisting that HB 276 is a "step forward" for gun rights?
* GoUtah!
* National Rifle Association (NRA)
* Utah Shooting Sports Council (USSC)
Or are you willing to chart a different course — your own course — by creating your personal political agenda and by carefully scrutinizing all the information you receive?
In creating your personal political agenda, consider carefully how an ethical and legitimate government would operate. UT Gun Rights has created its draft Affirmative Agenda for your review and critique.
Again, the 2015 annual statutory session is in full swing. UT Gun Rights offers its 2015 Bill Tracking Page: The Good, The Bad, and The Ugly, as one perspective for you to carefully scrutinize.
Sign up for E-mail Alerts & Updates
To sign up for free alerts and updates, email info@utgunrights.com.
Also "Like" the UT Gun Rights Facebook page and share it with your friends at https://www.facebook.com/UtGunRights.
---
Copying Permission: Permission to reprint articles and material in whole or in part is hereby granted provided that UT Gun Rights is cited. Feel free to share this information with others.
Disclaimer: The information on this site is for educational purposes only. If there are errors, email info@utgunrights.com.
Comments or questions? Email info@utgunrights.com.
Copyright © 2015 UT Gun Rights