Home > Free Ammo Page > What You Can Do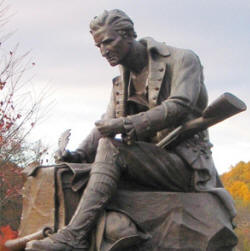 Revolutionary army soldier and practiced philosopher Thomas Paine.

What You Can Do
Only a highly-informed community can overcome the manipulation, deception, and fraud infesting every corner of society. Here are some ideas for you to consider in holding your government accountable and in reducing the influence of Utah's spider web-like network of corruption:
1) Create your own political agenda. Consider carefully how an ethical and legitimate government would operate. UT Gun Rights has created its draft Affirmative Agenda for your review and critique.
2) Network with local gun owners. Let people know what is happening. Get them connected with sites like UT Gun Rights so they can receive critical information and form their own, independent opinions. Sign up for free email alerts and updates at info@utgunrights.com and "Like" UT Gun Rights on Facebook at http://www.facebook.com/UtGunRights
Encourage others to read, analyze, question, confront, challenge, and understand what is going on around them. Here are three pages they should familiarize themselves with: The 2016 Utah Government Corruption Report, the 2016 Bill Tracking Page: The Good, the Bad, and the Ugly, and the Free Ammo Page.
3) Organize into smaller working groups for your area. Each of your local politicians should receive political direction from a group of local, determined, solidly-educated gun rights activists. This group can consider political action such as establishing local email/phone political action networks, becoming partisan delegates, literature distribution, holding town meetings, recruiting alternative candidates, election monitoring and participation, writing letters to various press outlets, and filing GRAMA requests for information.
4) Invite the Senate Bully and House Bully to abandon their gun control agenda and relinquish their authoritarian powers over your house and senate statutators. Let them know that you comprehend their games and manipulation.
Read about their powers in the article, "Two Bullies Steal Your Rights".
5) Invite your house and senate statutators to resist these bullies. Encourage them to introduce and approve the necessary changes to the house and senate rules that depose the present statutory monarchy. To find your statutators' contact information, click here.
6) Consider more personal forms of communcation. In this age of technological convenience, many citizens operate under the fanciful delusion that "Liking" a Facebook page, or indicating they "may attend" an event (and not actually attending), equates to substantive political activity. This is not the case.
It is rare, for instance, for most gun owners to send an email to an official. Because of the impersonal nature of email, it is common for officials to minimalize or ignore an individual email on a particular bill or issue. Especially if the gun owner has not already established himself/herself with the official in some more meaningful way.
Face-to-face and phone contact with officials has become rare for all but paid lobbyists who infest official halls. Therefore, consider setting aside the higher-technology crutches for some of your interactions. It will be noticed.
Sign up for E-mail Alerts & Updates
To sign up for free alerts and updates, email info@utgunrights.com.
Also "Like" the UT Gun Rights Facebook page and share it with your friends at https://www.facebook.com/UtGunRights.
---
Copying Permission: Permission to reprint articles and material in whole or in part is hereby granted provided that UT Gun Rights is cited. Feel free to share this information with others.
Disclaimer: The information on this site is for educational purposes only. If there are errors, email info@utgunrights.com.
Comments or questions? Email info@utgunrights.com.
Copyright © 2016 UT Gun Rights